www.industrymiddleeast.com
Written on Modified on
The RLXIB-IHW radios from ProSoft Technology® not only are 802.11 compliant, but also benefit from a specific development in order to support, in the best conditions, the transport of demanding traffic of industrial protocols.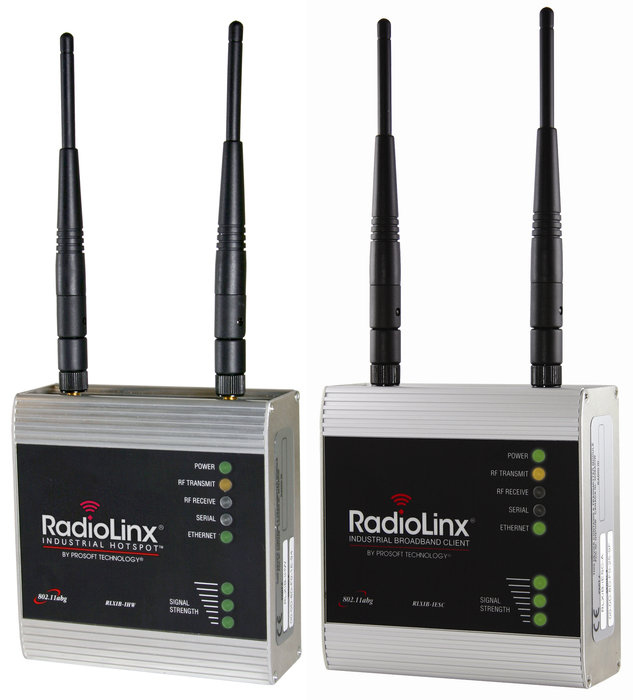 802.11abg radios…
Wi-Fi (which designates the IEEE 802.11 series of standards) brings very interesting features to industrial automation applications: extremely high level of security (802.11i), flexibility, interoperability. But it has been designed for office and home applications. And when it comes to transporting industrial protocols, it may show some limitations that result in transmission issues which are not acceptable for factory automation systems (these issues are mostly due to the way Ethernet packets are transported by the standard over the air). In addition to supporting the standard, RadioLinx includes functionalities that allow the radio to optimize traffic for demanding industrial protocols.
The new RadioLinx RLXIB-IHW brings the advantages of wireless into the industrial automation applications. Because it is supporting the 802.11abg standards, the RLXIB-IHW allows the automation engineer to reduce the time he used to spend on the field for programming, maintenance and other operations: he now don't need to go close to the cabinet (sometimes difficult to access), open the door of this one (usually needs a key), put in place a cable between his computer and the PLC (needs a place for the PC, close to the PLC, at a distance shorter than the cable length)…

… that fit industrial protocols needs
In addition to conforming to 802.11 standards, RadioLinx RLXIB-IHW also supports optimized transportation of packets of data. Due to demanding traffic, most Wi-Fi solutions do not fit the industrial automation need (resulting in recurrent transmission losses). RadioLinx RLXIB-IHW uses a specific signal processing algorithm developed by ProSoft Technology, for improving traffic of packets of data. This allows better use of the whole bandwidth, and so keeps the data throughput at the high level requested by the industrial automation engineers.

Industrial Automation Applications
RadioLinx RLXIB-IHW is featuring Power over Ethernet (PoE). Only one cable (instead of 2) is necessary to connect the radio to the wired Ethernet network and to power it. This is particularly interesting feature for easing installation operation and reducing implementation times.
Also noticeable, RadioLinx RLXIB-IHW supports serial encapsulation. This brings an easy way to allow the use of serial devices and integrate them into the main Ethernet architecture of the control system.
This new radio, RLXIB-IHW, is compatible with its predecessor, RLX-IHW, and offers superior performance for both IEEE 802.11bg (2.4 GHz band) and 802.11a (5 GHz band) implementations: a more powerful processor allows higher speed processing of data and signal, which, from user point of view, results in higher data throughput.
RadioLinx RLXIB-IHW can be used as Master (Industrial Hotspot™), repeater or remote radio node. A client only version RLX-IESC is also available; it allows connection of remote devices at reduced costs.
Being industrial radios, RLXIB-IHW and RLX-IESC come with an industrial casing, extended operating temperature range, conformity with shock and vibration standards, certifications for explosive locations, DIN-rail mounting, etc.
Each ProSoft Technology product comes with a 3-year warranty and unlimited technical support.